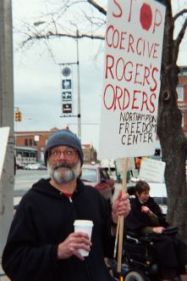 Having an advocy group on your side -- people who REALLY understand what you are going through -- can lead to real progress in improving your life in dealing with the mental health system. Sometimes some practical strategy advice, support at a meeting, or a phone call or letter from an advocate can make a real difference. It's worth a try.
Freedom Center is a volunteer-based, peer-run group. Our resources are limited, and our advocacy efforts are stretched thin. The best way to start with your advocacy needs is coming to one of our meetings -- they're a great place to get support and ideas for action. We do what we can to advocate for people, and if the resources are there we can try to step in to help you as much as possible. We can also try to refer you to professional advocacy resources out there -- lawyers, etc who are paid to fight for your rights.
Come to a meeting, give us a call (413) 582-9948, or email
thefreedomcenter@hotmail.com
if you are facing any kind of human rights abuse in the mental health system, such as:
you don't like your medication and want to change or get off of it but no one is helping you;


you are being disrespected, talked down to, yelled at, patronized, or otherwise dehumanized by staff;


people paid to help you are not listening to you or are ignoring your needs or treating you like you're crazy;


you are on a forced Rogers Order medication compliance law and want to get off of it;


you are being forced to see a therapist or doctor who you do not trust;


a landlord told you "we don't take Section 8" housing vouchers: THIS IS ILLEGAL!


your medical needs are being ignored or neglected by mental health staff for ANY reason;


you got locked up against your will and want to do something about it;


you are under a guardianship and don't have control over your money and want this to change;


you're being told that you have a disease or a genetic defect and you will never recover: THIS IS WRONG!


you're being told you have a "chemical imbalance" and MUST to take your meds: THIS IS NOT TRUE!


you're sick of what you have seen in the system and want to help others;


you work at a mental health agency -- WE OFFER A REWARD TO WHISTLEBLOWERS!













site content may be freely reproduced if source identified & linked email webmaster